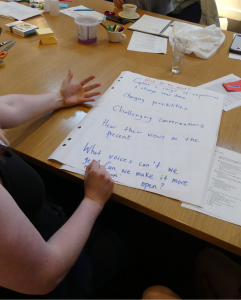 Following the successful historical workshops in March, the next strand of the Transformations projects was the creation of an archive of oral history interviews documenting the experiences of trans and gender diverse people over the past fifty years.
The first step was to train four of our young volunteers in the methodology of oral history interviews, so that they could become interviewers themselves. On July 2, we ran a day's workshop at the Watershed in Bristol. Dr Ruth Pearce, Prof Kate Fisher, Bon O'Hara from Gendered Intelligence and our participants explored the nature and value of oral history as an historical source. We discussed the purposes of oral history interviews and explored the different kinds of interviews that could be conducted. We discussed the variety of challenges and difficulties that one might face in an interview and developed strategies for managing these. We were particularly interested in the politics and ethics of insider/outsider relationships between interviewee and interviewer.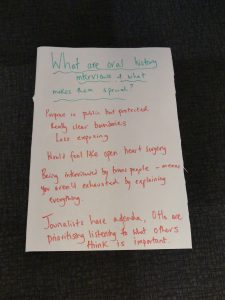 How far was sharing elements of experiences an advantage or a disadvantage; what were the benefits/costs of revealing shared experiences, and what value was equally to be gained in highlighting and exploiting areas where experiences? We all had a chance to experiment with using recording equipment and conduct practice interviews, and learnt more by observing Ruth give a technical and methodological masterclass. Finally, a 'what do I do if…' and 'how do I do x' exercise enabled the participants to bring up their own areas of concern.
Later on in the month, we were privileged to have 12 adult volunteers willing to tell their stories, and we all convened over one long weekend at a beautiful Victorian sea-side house in Weston-Super-Mare, which materialised into something we like to describe as an oral history festival. Four comfortable interview rooms were set up while in the spacious kitchen and living-room interviewers and interviewees chatted and exchanged stories around a buffet table groaning with food.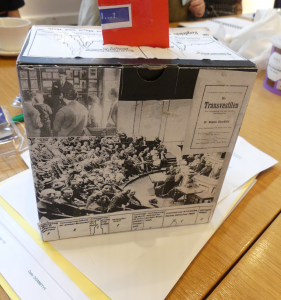 Young interviewers found the experiences of older trans and gender diverse people both fascinating and eye-opening. We heard remarkable experiences of coming out, social and medical transitions and hostility, as well as empowering and life-affirming accounts of support from family and friends, personal strength and changing cultures and attitudes.
The oral history weekend created a new and supportive community of younger and older trans and gender diverse people and we look forward to reconvening in later stages of the project, with others, to integrate extracts from the oral history interviews into our performance and showcase.
If you are trans or gender diverse and aged 16-25 there are a number of ways you can get involved with the Transformations project. Find out here: http://transformations.exeter.ac.uk/get-involved/